I was recently contacted by The Rabbit Lady of The Rabbit Vibrator website, who generously offered to let me test drive one of the toys her site offers. After perusing the tantalizing selections, I finally settled on the WaterProof iVibe Rabbit Vibrator. I seriously considered the Internet Enabled Rabbit Vibe, because that is just SO cool, but I decided that being able to take a toy in the shower would be more useful.
The anticipation while I waited for that package to arrive was terrible. The moment that Jack brought it in from the mailbox I could hardly control myself. I tore open the packaging and stared in awe at the impressive purple phallus. Since the kids were still awake I had to tuck it away until later.
We finally got the kids to bed and I raced upstairs to get my new toy. It's rather heavy, compared to some other vibrators, but I imagine it would have to be in order to manage all the impressive functions it can preform.
I cleaned it off (always wise before you try out a new toy) and put the required 4 AA batteries into the end of the handle.
Jack volunteered to help me try it out (what a Saint that man is, putting up with all the dirty work I make him do *snickering*). We headed upstairs and got down to business.
Product testing can be such hard work! HA HA
We figured out what all the buttons do before taking it near my netherbits. There are two sets of 'off' and 'on' buttons, one set for the vibrating "ears" and another set for the shaft. Those buttons also serve to increase or decrease the intensity or speed of the vibration of the ears or the swiveling of the shaft. There are also three 'function' buttons which are pre-set to make the vibrator do different things.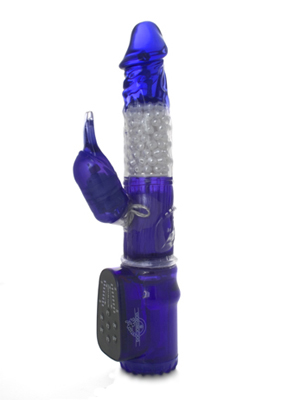 The shaft can rotate all the way around or swivel from side to side while the ears tickle your clitoris with vibration or pulsation. You can control the shaft and the ears independently, which is excellent.
Once we figured out which buttons did what it was time to give that baby a test run!
I laid back and relaxed while Jack got the Rabbit started and pushed it gently into my pussy. He turned the shaft on to rotate and set the ears to low vibration. When they initially brushed against my clit I thought I was going to climb the walls. The dual sensation of the shaft and the vibration was really incredible.
While I was groaning and panting Jack tried out some of the different functions. I think that I liked the first setting, with the head rotating inside of me and the rabbit ears on medium intensity.
Apparently it only took minutes for me to reach orgasm (Jack was timing). I came long and hard, it was so intense I was left breathless and satisfied.
I think I have a new favorite toy!
As far as some of the more practical aspects, this thing is big and it weighs a fair amount. You definitely cannot take it places with you unless you have a large purse. Not that I would recommend using it any place public, since it is rather loud. If you just use the vibrating rabbit ears you're ok, but get the shaft moving and you can certainly hear it if you're standing across the room.
Since this model is waterproof it's SUPER easy to clean. I wash my toys with a gentle antibacterial soap, and it's nice to be able to scrub it without worrying about getting moisture in the motor. When they say waterproof they actually guarantee it. I turned it on and dropped it into a bathtub of warm water to check for any air bubbles (in order for water to get into a toy, air has to be forced out). It just rumbled away at the bottom of the tub, no escaping air could be seen.
This is not the toy you use when you want a quickie orgasms. It's more for prolonged enjoyment, alone or with a partner (or several partners for that matter).
Would I recommend this vibrator? Most definitely! At around $100.00 (USD) it's a bit of an investment, but it's made by Doc Johnson so you know it's going to last you. It's a pretty impressive piece of equipment, and with sex toys you really do get what you pay for.
When the Rabbit vibrators first made their appearance on the adult toy scene they were highly popular. I mean everyone was talking about them (yes I happen to keep up on the trends). Now I can see why! I warn you about purchasing a cheap knock-off, because it's not going to last you if you only pay $25 bucks for it. Go cheap on things that don't have any moving parts. If it's motorised you want it to be well made.
Guys, if you want to get your girl an awesome Christmas/Birthday/Anniversary/Valentine's gift (and she is the type that likes getting sex toys as gifts) you'll score points if you get her a Rabbit Vibrator.
This Product Receives:
As an end note, I hope everyone also enjoyed the pictures. Consider them this week's contribution to HNT. I was very nervous about posting pussy pictures, so show me some love for being brave and putting them up.